For Les Echos, Frédéric Petiniot analyses current trends in institutional asset management and investor opinion of asset managers, based on the results of Amadeis' Palmarès des Sociétés de Gestion 2023.
Extracts from the article by Caroline Mignon for Les Echos :
Small management boutiques have come out of the 2022 trial by fire stronger than ever. While the previous year had seen the return of insurance management specialists to centre stage, the second-tier players, often French and independent, with assets under management of up to around fifty billion euros, are taking the top places in the latest Amadeis ranking.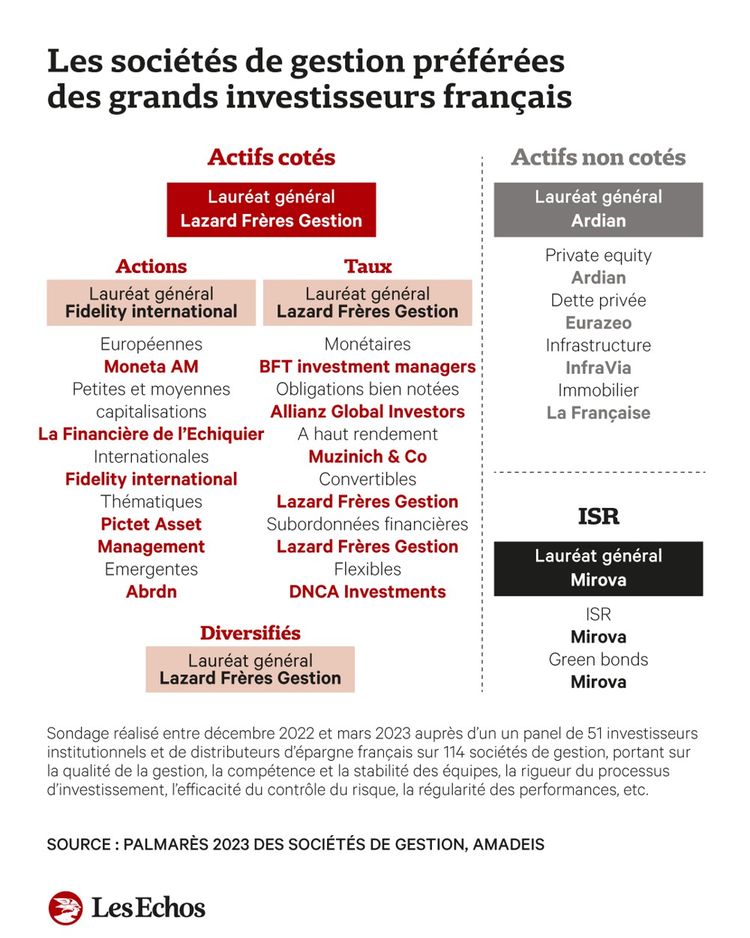 Winning positions:
Lazard Frères Gestion, which has already been highly ranked in recent years, has built up winning positions in 2022, both in equities, by staying away from the most heavily penalised sectors, and in fixed income, thanks to its low sensitivity.
Frédéric Petiniot
Diversification:
Initially built on a core expertise, many French asset management companies have gradually diversified and gained legitimacy in other market segments. Lazard Frères Gestion, for example, strengthened its bond offering in 2018 with the recruitment of a specialist manager from Axa. The same is true of DNCA, which is now recognised as much for its equity management as for its expertise in flexible bond management. The risk, however, is that they will lose their clarity. Partnerships, mergers and other transfers of teams can have an impact on the rankings of the management companies concerned.
It takes time to build legitimacy, with a recognised team and a track record over ten years or so.
Frédéric Petiniot
To read the full article, click here.
Based on opinions gathered from the leading investors in France, the Amadeis Palmarès des Sociétés de Gestion presents trends in the French institutional market as well as an analysis of investor behaviour and expectations for the coming months. The study also ranks the best management companies by asset class and investor type, making it possible to identify the market players most appreciated by investors.
The 2023 edition was carried out among a panel of 51 French institutional investors (pension and provident groups, mutual insurers, insurance companies, banks, companies, foundations, multi-managers, etc.) on 114 management companies, focusing on the quality of management, the competence and stability of the teams, the rigour of the investment process, the effectiveness of risk control, the consistency of performance, etc.